Do You Want To Be a Wolf For a Day?
Do you want to roam through woods beside the River Wye, hunting deer, outwitting players who are trying to track you down, and generally acting like a sneaky wolf? Well, we've got a role for you.
We are looking for keen hill and off-road runners to act the part of wolves near Symonds Yat on Saturday 2nd & Sunday 3rd of May as part of the Wye Valley River Festival. We give you performance training, fit you out in a fantastic costume and feed you delicious picnics. Once you become a wolf, you will be sneaking through your pack territory without being seen by the players, visiting your den, checking out an old kill and generally having a fine old wolfie time.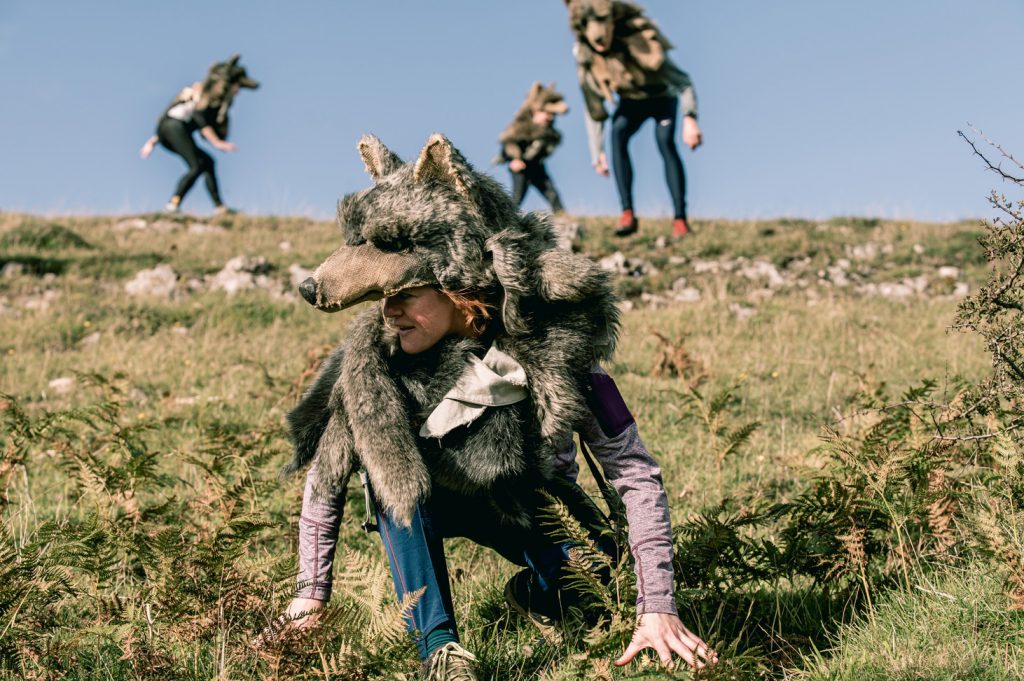 'I thought the experience was absolutely amazing.' Sarah, player at Lakes Alive 2019.
What's the concept?
Wolves is a game. Players track and photograph a real wolf pack roaming the woods and hillsides along the River Wye. Their objective: photograph each of the pack members and collect a full set of wolf cards (like top trumps!). Your wolf objective: to visit each of the key locations within your territory such as your den, or the kill, without being seen by the players. This is harder than it sounds as we fit the wolf pack with GPS trackers that post the pack location to the player's digital map.
The players submit their photographs to the competition by sharing them on their social media channels with #wolveslive. These photographs get posted to the game gallery, where they are verified by the game umpires: a wolf biologist and an ecologist.
Wolves has been commissioned by the Wye Valley River Festival.
What do I need to do?
We want you to play the game as a wolf on Saturday 2nd May, or Sunday 3rd May. You will be with four other performers, trying to complete your mission, either collectively or alone. There are three games each day, each lasting 60 mins, but you will be playing a maximum of two. Each game lasts an hour.
On Saturday 25th April, we will be running an incredible training and rehearsal day where we will provide training in wolf behaviour and how to interpret that in your performance. We'll visit the game location and familiarise ourselves with the terrain. You will also be fitted with wolf masks and costumes. These are light and allow freedom of movement, as well as looking really dramatic. Most importantly, we will provide a delicious picnic for all.
During your performance, the project team will support you with plenty of hot drinks, delicious snacks and rest area for you to relax in between performances.
Key Dates
You must attend the training day but you can volunteer for either game day, and for as many performances as you wish
Training day – 25th April
Game days – 2nd & 3rd May
Where is it?
Final game location is to be confirmed but will be between Symonds Yat and Monmouth. The training day will be held close by.
How do I apply?
We are looking for keen hill & off-road runners, both male & female. You should be up for a little bit of performance, but we're not expecting experience in this. If you are free on 25th April for training, and then on the 2nd or 3rd May for the game, fill in the form and we will get back to you promptly.