What is Wolves?
Wolves is a game. Players track and photograph the Lakeland pack as they roam the landscapes around South Lakeland. This is not easy as wolves are notoriously hard to see. To aid players, Wolves publishes the wolves' current location, derived from pack radio collar data*, on this site. Use the location data to get out into the landscape to try and seek out and spot the wolves.
The game is not currently playing. Sign up for Wolf Alerts here to get the heads up for the next game.
How to Play
Use the map to track the wolves and photograph them. Then send your pictures into the game website via social media or by uploading direct to the website. There is more information on how to play here.
Competition
There are various competition categories for photographs of the wolves:
First sighting
Best photograph
Most interesting behaviour
First sighting in an urban setting
Best photograph documenting wolf ecological impact
Players submit their photographs to the competition by sharing them on their social media channels with #wolveslive or by submitting them to the game website. These photographs will be posted to the game gallery and plotted to the game map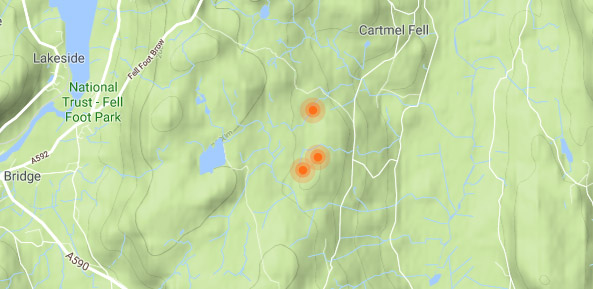 Why?
Wolves is a celebration of the Lakeland pack and a means for visitors to enjoy this magnificent animal in its natural setting. Wolves recognises that the Lakeland pack has become a key attraction to visitors to the Lakes. Wolf watchers have become important contributors to the local economy but this needs to be regulated to ensure the safety of visitors to the national park and the wellbeing of the wolves. Wolves is part of a range of measures to address this.
*In order to ensure the safety of the wolves and to prevent misconduct, the player's location will be required in order to obtain wolf location data, and this will be stored